Tanks
R K Fabrication manufactures many types of tanks, Polypropylene, PVC, PVDF, Lined and Unlined Steel, Stainless Steel, Fiberglass and Insulated. We can provide you with the highest quality tanks for lowest price possible.
We custom design and fabricate tanks for all applications ranging from plating to rinsing, and waste treatment to storage.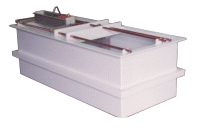 Tanks for barrel fixtures PVC Lined Mild Steel
You can purchase your tanks with with no accessories or you may choose to have us install them for you. Anode Cathode rods, agitation, heaters, pumps, filters any tank configuration can be custom built to your specifications.
---
Call R K Fabrication to speak with a technical representative and find out how we have the solutions to your industrial chemical process or ventilation requirements.
Telephone

[714] 630-9654

FAX

[714] 630-9655

Postal address

1283 North Grove Street, Anaheim, Ca. 92806