Sound Reducing Enclosures
R K Fabrication's Sound Reducing Enclosures are constructed from chemical resistant Fiberglass Reinforced Plastic (FRP) custom fit to enclose noisy equipment such as fans. The FRP shell is durable, chemical and weather resistant providing protection for the expensive equipment inside. The inside of each enclosure is lined with sound absorbing foam to keep the noise inside, protecting employee's and neighbors from the constant noise of running equipment.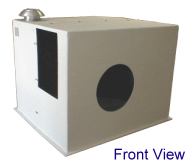 Large 6' x 8' x 6'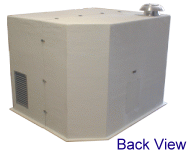 We custom design and fabricate enclosures to house any size equipment. All the work is performed by skilled craftsman in our Fiberglass Fabrication Department.
4' x 4' x 4'
Enclosures are supplied with openings corresponding to the dimensions of your equipment, split construction with locking snaps for ease of installation and access to equipment, or heavy duty bolt together design, ventilation fans to remove hot air and bring in fresh air from the outside.
---
Call R K Fabrication to speak with a technical representative and find out how we have the solutions to your industrial chemical process or ventilation requirements.
Telephone

[714] 630-9654

FAX

[714] 630-9655